Wightonline
The original Isle of Wight holiday and business directory.
Bed & Breakfast - Shanklin
Christina and David invite you to stay with them and enjoy all that is best in British holidays. Our warm family friendly atmosphere, comfortable surroundings and selection of freshly prepared breakfasts will combine with the unique magic of the Island to make your holiday just that little bit more special. All of our seven rooms are en suite and wifi connection is available throughout the building. Off-road parking is available. The St. L...
Self Catering - Ventnor
At Ventnor Holiday Villas and Apartments you will be spoilt with their stunning sea views and unique peaceful location. All amenities are within walking distance. They are nestled between the picturesque village of Bonchurch and Victorian Ventnor, with a choice of beaches close by. If you appreciate beautiful scenery, love walking, have a dog, or want a typical self catering family holiday then Ventnor Holiday Villas and Apartments would be...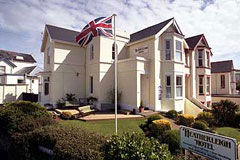 Bed & Breakfast - Shanklin
Mary and Kim Gregory offer you a warm welcome, hospitality, comfort and good food, wine and service in this non-smoking, family run bed and breakfast. Situated close to Blue Flag beaches, thatched villages and scenic coastal paths, it is the perfect place to start the adventure of discovering the hidden bays and villages on this wonderful island.